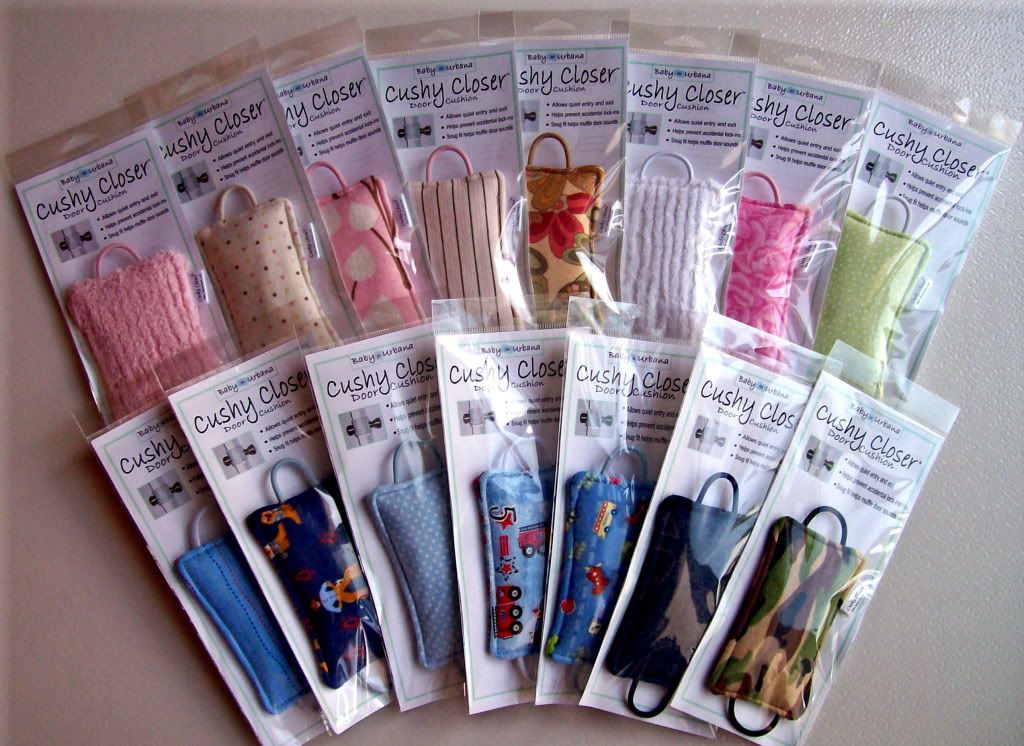 Baby Urbana - Cushy Closer - Giveaway
Prize: $25 gift certificate
Cushy Closers allow quiet entry and exit while checking on sleeping children
Prevents young children from being locked in (bathrooms,bedrooms,etc.)
Snug fit helps muffle door sounds (slamming,rattling,closing)
Helps with noisy children and husbands, too!

It doesn't matter how much noise a child can sleep through, there's something about the click of a doorknob or rattling of a door that can break through the deepest sleep. Once the Cushy Closer is attached, the door can be opened and closed, completely and quietly, without turning the knob or handle. The snug fit means no rattling or slamming when a blast of air hits the door. Want to thwart the efforts of a toddler trying to lock him or herself in the bathroom or bedroom? Do you have a noisy husband or older children? What other doors may need a Cushy Closer? They're also portable for visits to friends or grandma's or when traveling. As their sister-in-law says, "It's the best little product you never knew you needed." If nothing else, it sure beats putting a sock or rag in the door!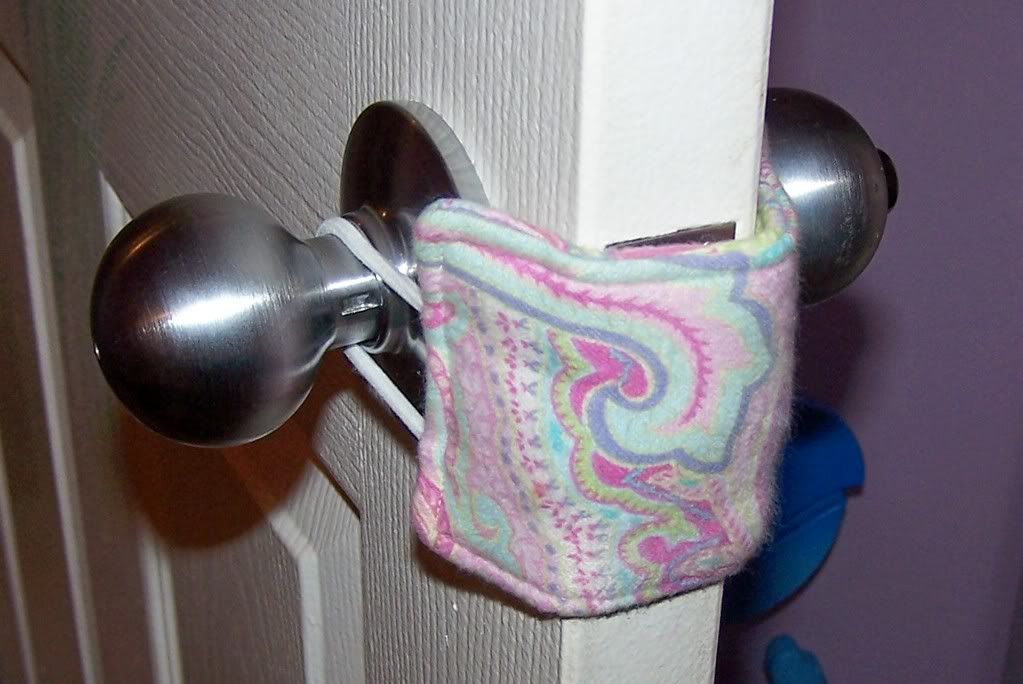 Product Review:
Gail sent me a Cushy Closer to test out. They are wonderful! I have it on the door in my girls room (they are 3 and 5). Prior to putting the Cushy Closer on their door here is what would happen - One would wake up and when leaving the room they closed the door (or should I say slammed) and then the other would wake up. After Cushy Closer (I think you get the picture) the one still sleeping stayed sleeping. It is a wonderful product. Upon first seeing it I thought this puffy thing will never fit but it does. There are a ton of designs to choose from and Gail is awesome to work with. I honestly could not find any flaws to report. Definitely two thumbs up.

How the enter Giveaway:
Go to Baby Urbana and then come back here and comment on what you would pick if you won.
Extra Entries:
-Subscribe to my updates (1 extra)
-Carry my button on your sidebar (5 extra)
-Twitter this giveaway (leave a comment with link to your tweet) (1 extra per day per tweet)
- Blog about this giveaway (5 extra)
please leave a separate comment for each extra entry
Giveaway ends on Wednesday, December 31st at noon EST
(you MUST leave a way for me to contact you or another winner will be chosen)


♦
DiggIt!
♦
Stumble This
♦
Add to Technorati Faves
♦
Add to del.icio.us